Cenotaphs
Cenotaph : funerary monument which honors the memory of a person, without being the tomb.
Cenotaphs of the Oberkampf family, located in the garden of the stone bridge house. Christophe-Philippe Oberkampf : industrialist, creator of the painted canvas factory of Jouy-en-Josas
THE HISTORICAL CONTEXT

Christophe-Philippe Oberkampf arrived in Jouy-en-Josas in 1760 and settled in the Maison du Pont de Pierre. He died in his family home (the present town hall of Jouy-en-Josas) at the age of 77 on October 4, 1815.
Being of Protestant faith he could not be buried in the cemetery of Jouy-en-Josas.
Indeed, following the revocation of the Edict of Nantes in 1685, the Protestant faith was forbidden and Protestants could no longer be buried in the cemeteries. They had to bury their dead in "the land", in a field, in a property. Thus was born the tradition of family cemeteries.
THE BURIALS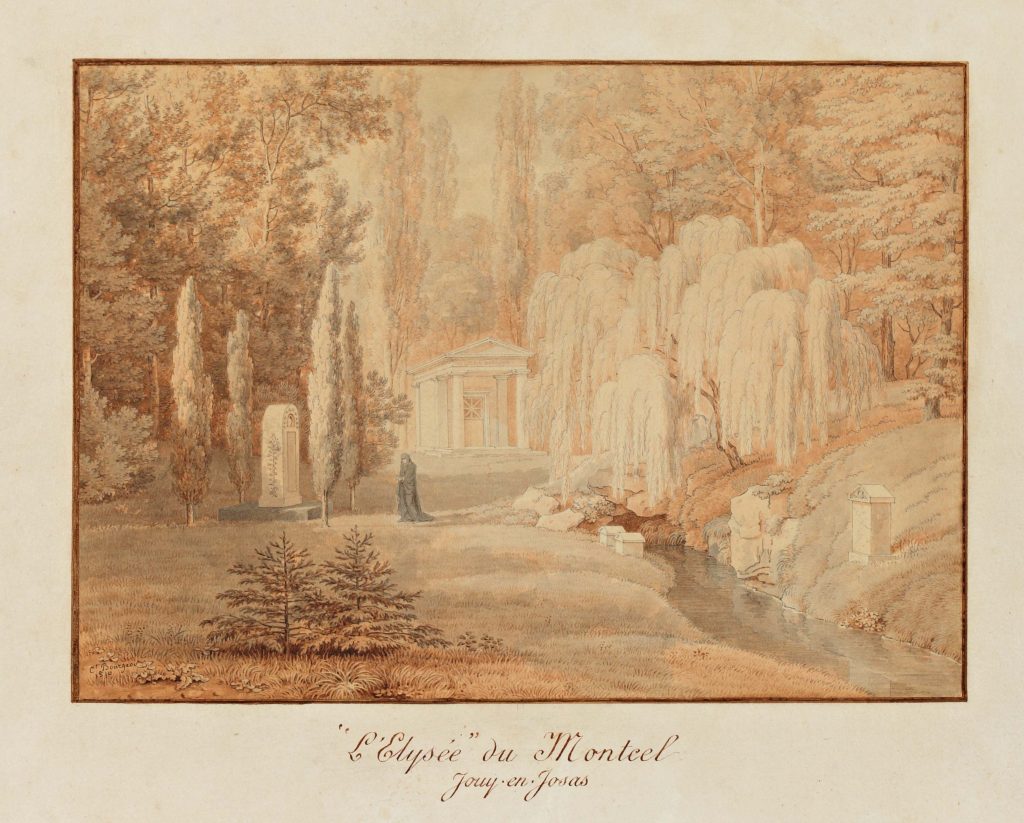 Oberkampf's first wife, née Marie-Louise Pétineau, as well as three of their children who died prematurely, were buried in the factory's enclosure.
His second wife, born Anne Michèle Élisabeth Massieu, created in the park of the Château du Montcel, acquired in 1795, a family burial ground called "L'Élysée". It is there that Christophe-Philippe Oberkampf is buried.
All the members of the family will join him until the moment when the Protestants will have the right to be buried in the cemetery.
When the Château du Montcel was sold by the Mallet family in 1923, the burial site was moved to a portion near the edge of the estate.
After the acquisition by the commune of the Maison du Pont de Pierre in 1978, the cenotaphs were moved to the adjacent garden.
The stele on the left is dedicated to Christophe-Philippe Oberkampf, the one on the right to his wife. The funerary inscription specifies that his wife and his son Alphonse are buried near him.
Other small steles are present. These are those of the family members, the parents of his wives and his nephews Widmer, whom he looked after and who became efficient collaborators.
The municipality has recently redesigned the area around the house; the place is now visible from the street.
Texts written thanks to the Groupe de Recherches Historiques de Jouy-en-Josas
PRACTICAL INFORMATION

To be curious, go to the entrance of the music school (on the Avenue Jean Jaurès side, facing the parking lot of the town hall).
The cenotaphs are located in the garden and visible from the street.
The garden is closed by a gate. Access is possible, upon prior request to the Tourist Office of Jouy-en-Josas for the reservation of a time slot.
School of music – 1, rue du Montcel – 78350 Jouy-en-Josas