THE VELOSCENIC
The Véloscénie (cycle route n°40) is one of the long-distance cycle routes allowing you to visit France by bike.
An original tip that we recommend to you to discover THE CURIOSITIES OF OUR TERRITORY while enjoying the fresh air!
A 450-KILOMETER CYCLING ROUTE

A spectacular route linking Notre-Dame de Paris to Mont-Saint-Michel
The Véloscénie offers you an ideal and original scenario on more than 450 km of cycle tracks, greenways and small marked out roads. From Notre-Dame-de-Paris, you will pedal gently from castles to gardens and from natural parks to villages, until the sumptuous Mont Saint-Michel, a marvel classified as a World Heritage Site by UNESCO. Its route crosses the Upper Bièvre Valley, passing through Bièvres, Jouy-en-Josas, Versailles, Les Loges-en-Josas, Buc, Toussus-le-Noble and Châteaufort.
For a weekend or a vacation, discover along the way the highlights of France's architectural and landscape heritage: the Toile de Jouy museum, the castle and park of Versailles, Chartres Cathedral, Marcel Proust's garden, the thermal baths of Bagnoles-de-l'Orne, not to mention the regional nature parks…
A journey through the France of yesterday and today, to recharge your batteries and take in the sights!
Plan on ten days to complete the entire trip, but you can also be satisfied with one or more stages.
WARNING: some sections are suitable for the general public. Other parts are more complex and not recommended for children.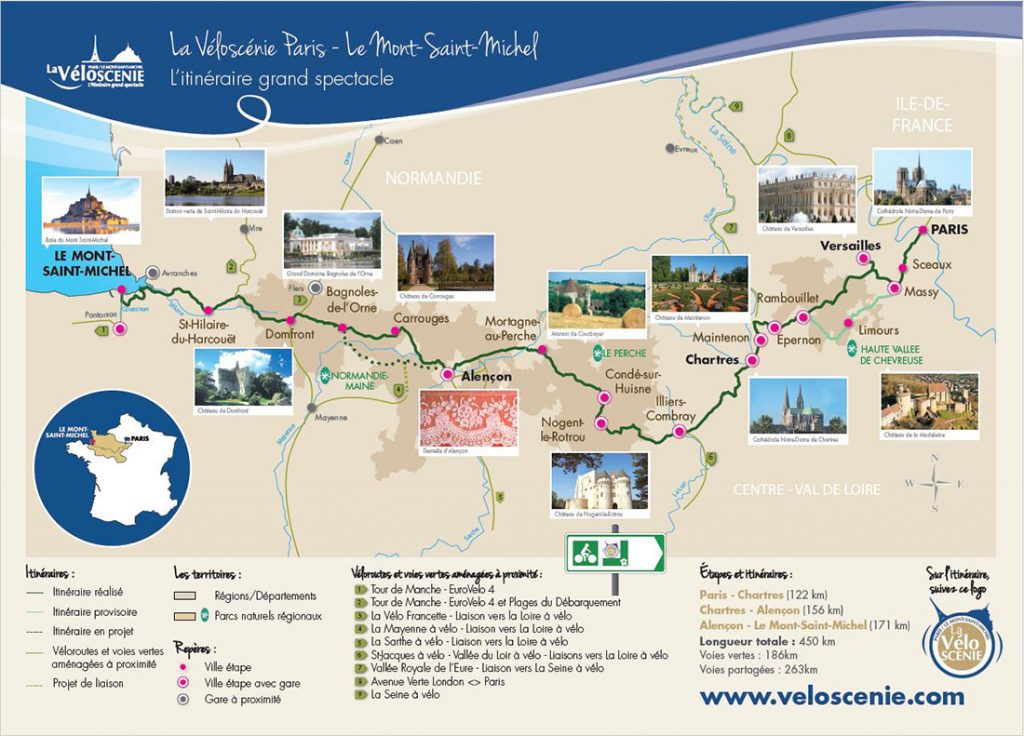 Massy – Versailles section:
Versailles – Saint-Rémy-les-Chevreuse section:
PREPARE YOUR TRIP BY BIKE

Because the adventure is not improvised, we give you some useful advice to enjoy this beautiful journey with peace of mind.
Plan your daily itinerary, download the gpx tracks to know the distances and the difference in altitude of each stage.
Paper guides are on sale in our store, get it, it will never leave you !
Preferably, plan the long distances in the morning and leave early to avoid unforeseen events, the heat, and to take time to visit the tourist sites.

Keep the contact details of the tourist offices along the route: they will welcome you with a smile and answer all your questions.
Select your accommodations and restaurants to take a short break and regain energy.
Establishments with the "accueil vélo" label (tourist offices, accommodations, restaurants, museums, bike repair shops) have quick repair kits, water points, electrical outlets, washing machines (accommodations) and other specific services.
Have adapted equipment: prefer mountain bikes, with or without electric assistance, depending on your level. Check your safety equipment.
Don't forget that your bike should also carry your luggage while allowing you to ride comfortably.
So, don't take your entire wardrobe, but only the most useful clothes for all weather (heat, rain). Don't forget your sunglasses!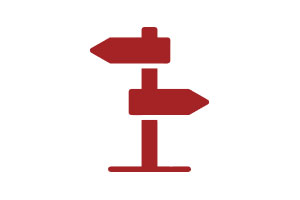 Last tip: check the weather!

Let's go for the adventure !
Our good addresses along the route